PMF series
PureMax® PMF series
PMF series filter cartridges are manufactured using a patented multi-layer production involving four unique spraying nozzles. The cartridge is combined with four different pore diameter fibers which filtrate different particles in each layer effectively. This design gives the filter cartridges a high contaminant holding capacity, lower pressure drop and longer service life.
Features and Benefits
※ 4-layer structure, high contaminant holding capacity, long service life.
※ 100% PP for compatibility with a wide range of process fluids.
※ Micro-denier melt blown filtration fiber, high removal ratings.
※ Formed by thermal bond without use of any binders and adhesives.
※ Certificated by NSF42 and FDA CFR Title 21.
Operation Conditions
※ Maximum operating forward pressure:
60℃: 1.8kg/cm2
20℃: 3.2kg/cm2
※ Recommended replaceable pressure drop: 1.5kg/cm2
※ Maximum operating temperature: 60℃
Applications
※ Filtration of cooling water system in semiconductor industry (PCW)
※ Filtration of CMP slurries
※ Pre-filter of DI water filtration
※ Filtration of medium & low viscosity fluids of chemical
※ Filtration of water for manufacturing processes and recycled water
※ Filtration of paint in panel painting industry
⊙ Filtration Efficiency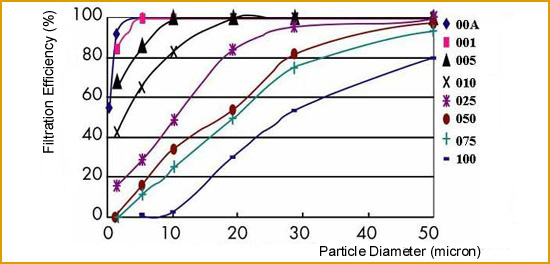 ⊙ Initial Pressure Drop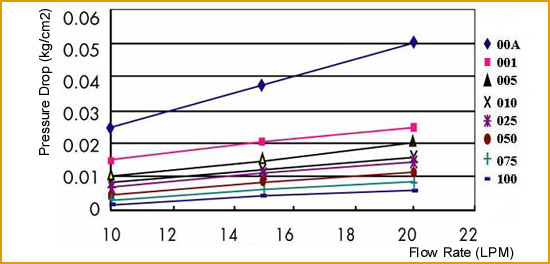 ⊙ Dirt Holding Capacity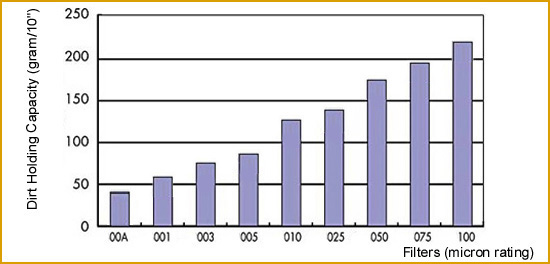 ⊙ Ordering Information